Anti-inflammatory Eating: What's new in '22?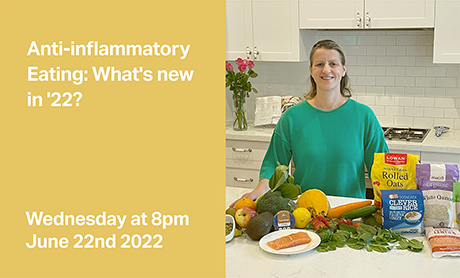 Many of you have expressed interest in learning how what you eat can impact your joints, rheumatic condition and overall health. Monica is looking forward to hosting an "updated" Anti-Inflammatory Eating event where she can will go through both existing and emerging evidence to support this style of eating. If you've wondered where to start, or where you might be able to make some clever changes to support eating in more of an Anti-Inflammatory way, then this is the event for you!
During our live online event Dietitian Monica Kubizniac will aim to cover:
Anti-Inflammatory Eating

defined

Meats

and Fish

Fruits and Vegetables
Herbs and Spices
How Anti-Inflammatory

Eating can

impact your rheumatic condition

Existing Evidence and Recommendations
Emerging Evidence (What's new!)
Quick t

ips and tricks to get started

with Anti-Inflammatory Eating

Practical Strategies to

embrace

this style of eating

within you

r household
Attend our live virtual event Wednesday June 22nd at 8pm
Like all of our events we will welcome questions and discussion so we can all hear and learn from each other.