How the account setup process works.
We describe below how the setup process typically works.
Getting Started
You may have started with a paid account or a promotional trial if offered at the time. There are two primary account levels. Lifestyle and Exercise.

Our program is new and we've updated our login process.

The slides in this section show the typical sequence you might experience before accessing your account.


Advance through the slides to know what you might expect in a typical process of setting up your account.
How do I know if I setup an account in the past?
Proceed to the login page and try to login. Click to read more...
If you have difficulty logging in please be sure to enter your email and request a new password on the login form.
If you have an account you will be sent an email with a password reset.
Follow the instructions and reset your password.
If you still are unable to move forward please see the link that says "Contact the Admin" and you will get help.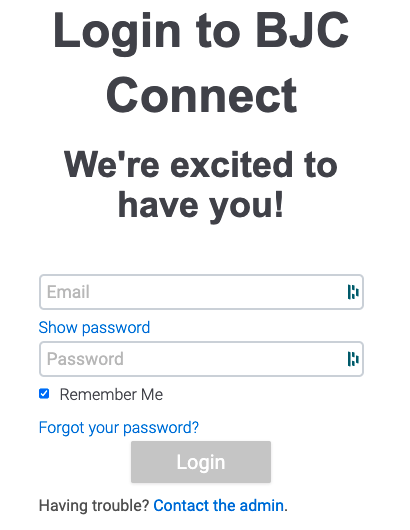 I'm not getting the email for my account setup.
This process is similar to setting up a social media account. Similar suggestions apply. Click to read more...
Make sure you check your email spam folder.
Some email providers have strict rules for incoming email. Search for emails from "bjchealth.com.au or bjcconnect.com.au".
Be patient, sometimes emails are not received instantly.
If you still have problems please goto the login page and choose the option for "Contact the admin".
I was sent the Account Setup instructions but I didn't login.
This may be from having early access. Click to read more...
First step is to follow the instructions at the beginning of the FAQ.
"How do I know If I setup an account in the past?"
If you try to login and fail and also are not able to reset your password, you may not have completed the registration step.
Please proceed to find out if you received the registration email. Look at the FAQ titled "I'm not getting the email for my account setup"
Otherwise contact the administrator from the login page and we will resend you your registration email.